Join the #MOVEchallenge2022 social media contest and become a MOVEment Ambassador!
06/05/2022
Irina Coreachina and Rachel Payne, ISCA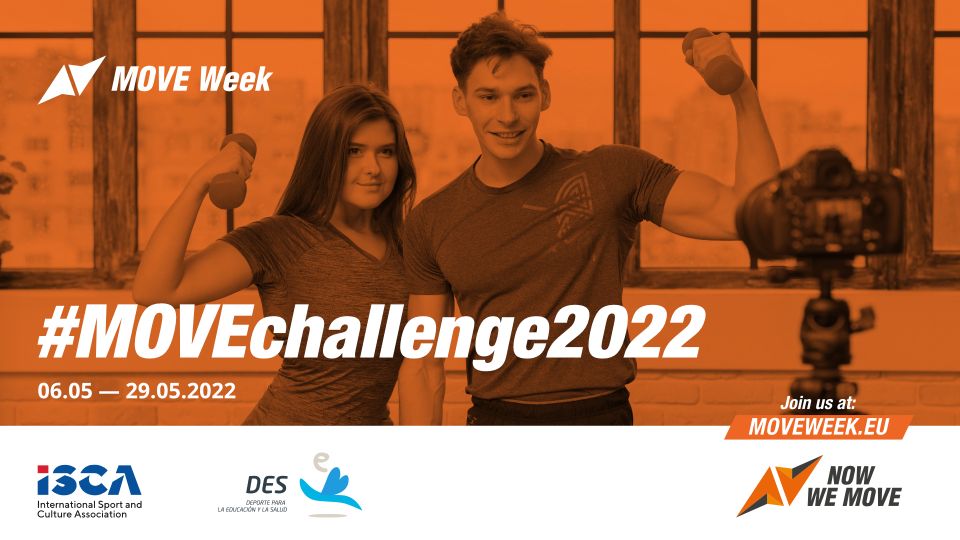 Can you do the coolest MOVE and want to inspire people around the world to try it? Do you think you could win an international MOVE-off? (That's right, it's not only a dance-off, this time you can win with any idea that inspires people to MOVE.) Share your video to be part of the #MOVEchallenge2022 – a social media contest that's kicking off MOVE Week 2022, an annual event that inspires people to discover new ways to be active.
All of the contest's participants will become MOVEment Ambassadors and the Top 3 videos will be selected by our international jury to win prizes and be shared even wider via ISCA and NowWeMOVE's websites and social media channels.
The Top 3 videos will also be included in our library of short exercise videos called MOVEment Pills – the free "exercise is medicine" pill that can be taken every day of the year. We're creating a brand new series of MOVEment Pills active break videos and yours could feature among them!
How to participate:
A. Record a video where you (individually or with your friends, family, colleagues, pets, etc.) demonstrate your favourite physical activity – your MOVE.
1. There can be maximum 5 people in the video.
2. The video should be maximum 1 minute long.
3. Check out our examples from Spain for inspiration: example 1 (individual) example 2 (compilation of ideas).
B. Post the video on social media (Facebook, Instagram feed or reels, and Twitter) using the hashtag #MOVEchallenge2022
1. Only videos posted in the period 9 May 2022 – 29 May 2022 are included in the competition.
2. Videos posted just in the Stories are excluded from participation.
3. Make sure that the video is available for everyone and your post is public.
4. Make sure that we can contact you via direct messages in case you are among the winners.
5. By posting the video with the indicated hashtag you automatically sign up for the competition and agree that if you are judged as one of the Top 3 your video will be shared publicly on ISCA, MOVE Week and MOVEment Pills websites, as well as on ISCA and NowWeMOVE social media.
The winners will be selected by an international jury of MOVE Week National Coordinators on 30 May 2022 and be publicly announced on 31 May 2022. The following criteria will be taken into consideration: creativity, quality of the video, number of likes.